8-Track carts are a bit fiddly to repair – opening them up can sometimes break internal clip fastenings, made brittle with age. However, a cart which arrived recently held some very personal family conversation, singing etc. from over 40 years ago, so a repair to the snapped tape was called for. The excess tape had been supplied on an old sellotape reel (main image),which was a good move as it had protected it from damage.
The cart was secured by a single screw so the task of opening it was made easier. With this sort of fixing, punching a hole in the label to access the screw is unavoidable.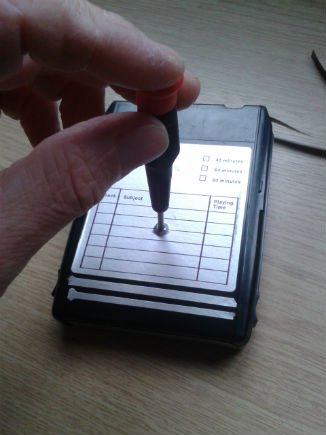 Once open, the next job was to remove and discard the old foam pressure pad – inevitably the foam disintegrates over the years and this was no different.  Then new foam was cut to size and inserted as shown…
Finally, the extra tape was spliced onto the two free ends, after manually winding into the reel maintaining the integrity of the endless loop.